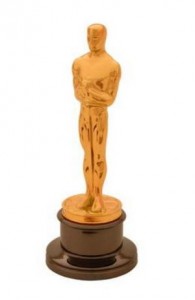 Last night's Academy Awards ceremony was more enjoyable than I expected, though it's always this way: each year I watch with a kind of low-level awe, impressed not only by the show's general lack of suckiness but by how the pageantry, with its weird mix of cheesy spectacle and syrupy sentimentality, manages to distill that specific tincture of pleasure that is the movies' signature structure of feeling. Mind you, I'm not talking about the cinematic medium's larger essence (its extremes of Godardian play and Tarkovskian tedium) but its particular, peculiar manifestation via the churning industrial engine of Hollywood, so helplessly eager to please and entertain that it puts us in the position of that poor guy in Brainstorm (Douglas Trumbull, 1983) — the one hooked up to an orgasm machine that nearly lands him in a coma.
Next day, the script is always the same: I listen to NPR and read the Times and discover that, in fact, the show was a big, boring disappointment, full of the same old lame old. (Here too the ceremony replicates the experience of filmgoing, the light of day too often revealing the seams and strings that ruin the previous night's magic.) So before I proceed to my necessary disillusionment, that temporary discharge of cynicism by which I prepare the poles of my pleasure centers for their next jolt, a few points of interest I noticed in the 81st Awards:
1. Popularity and its discontents. At several points during the broadcast — Hugh Jackman's great opening number, Will Smith's comments following the action-movie montage — we were reminded that the movies everyone went to see (Iron Man, The Dark Knight) were not necessarily the ones that received critical accolades and, by definition, Academy attention. In fact, an allergically inverse relation seems to apply: the more popular a film is, the less likely it is to receive any kind of respect, save for its technical components. That's why crowdpleasers are so often relegated to categories like Editing, Sound Mixing, and, of course, Visual Effects. (The one place where popular, profitable movies are granted the privilege of existing as feature-length artworks, rather than Frankensteinian assemblages of FX proficiency, is in the category of Animated Feature, where Bolt, WALL-E, and Kung-Fu Panda are rightly celebrated as marvels.) Last night, the Academy got called on its strange standards, with Jackman asking why Dark Knight hadn't been nominated and Smith dryly remarking that action movies actually have audiences. Only he called them "fans" — and this year, it seems, fans are realizing that they are audiences, perhaps the only real audiences, and they're rising up to demand equal representation at the spotlit top of the cultural hierarchy.
2. Mashups and remixes. Others, I'm sure, will have much to say about Slumdog Millionaire's sweep of the major awards and what this indicates about the globalization of Hollywood. The mingling of film traditions and industries seems to me an epiphenomenal manifestation of a more atomistic and pervasive transformation, over the last few years, into remix culture: we live in the era of mashup and migration, a mixing and matching that produced the wonderful, boundary-crossing hybrid of Slumdog (a media artifact, let us note, that is as much about television and film's mutual remediation as it is about Bollywood and Hollywood). This was apparent at a formal level in the composition of the Awards' Best Original Song performances, which garishly and excitingly wrapped the melodies of "Down to Earth," "O Saya," and "Jai Ho" around each other.
3. The Curious Case of Brad Pitt. Although he didn't win, Pitt's nomination for Best Actor in a Leading Role marks the continuing erosion of prejudices against — and concomitant trend toward full acceptance of — what I have elsewhere termed blended performance: the creation of dramatic characters through special and visual effects. More precisely, blended performance involves acting that depends vitally on visual machination: think Christopher Reeve in Superman, Jeremy Irons in Dead Ringers, Andy Serkis in The Lord of the Rings (and for that matter, Serkis as the big ape in King Kong). Each of these characters came alive not simply through their anchoring in particular bodies, faces, voices, and dramatic chops, but the augmentation of those traits with VFX methods, from bluescreen traveling mattes to motion capture and animation. I'm not saying there's a strict dividing line here between "real" and "altered" performance; every star turn is a spectacular technology in its own right. But good acting is also a category that prizes authenticity; we do not want to be reminded that we are being tricked. Blended performances don't often get Oscar attention, but when they do, there's a historical bias toward special (on-camera) effects versus postproduction contributions: John Hurt received a Best Actor nomination for The Elephant Man (1980), a film he spent buried in pounds of prosthetic devices. In Benjamin Button, of course, Pitt wore plenty of makeup; but a large portion of his performance came about through an intricate choreography of matchmoving and CG modeling. As digital phenomenologies become the inescapable norm, we'll see more and more legitimacy accorded to blended performance, a trend that will dovetail, I expect, with the threshold moment at which a CG animated film gets nominated for best live-action feature. Don't laugh: many thought it would happen with WALL-E, and it's in the taxonomies of AMPAS that such profound distinctions about the ontologies of cinema and technology get hammered out.