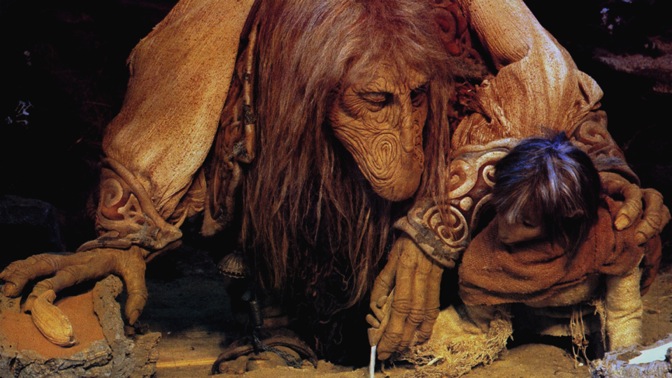 Movie-a-day is almost as old as this blog itself; the second post I published here was a list of the films I'd watched over the course of June 2007. In retrospect, it's perfectly fitting; what could better encapsulate blogging's perversely personal yet public and professionally-tinged disclosures than obsessive catalogs of a media scholar's viewing habits? Certainly the time I put in watching movies those first few summers after getting hired on the tenure track was intended to broaden my knowledge base and deepen my teaching — and if this gave me an excuse to settle comfortably into pleasant rituals of spectatorship, so much the better. But now, coming up on my fifth year of blogging, I see how movie-a-day has ruined me, for I no longer feel I've really watched something unless I've entered its title on the little documents I maintain here and there to track such trivia. (Currently I use a private PB Works wiki as my all-purpose ideaspace.)
The limbo this leads to — the realization of what a weightless experience film consumption really is — may be part of why I've periodically taken such long breaks from the blog, experimenting with oblivion as it were. Imagine my surprise and delight, then, when I recovered from what seemed a broken Google Doc a list of movies I watched from my most recent m.a.d. post to last summer. Those 170-some titles are below, with asterisks as usual marking the films that, for whatever reason, made the greatest impact on me. In its schematic way, these entries mark out a biography in filmgoing, charting between the lines the large and small events of two-and-a-quarter years in my life. There's Abrams's Star Trek reboot, which disabled my public voice in ways I still haven't brought myself to fully explore, amid a sprinkling of paranoid thrillers and whackadoodle documentaries to prep for my Conspiracy class; elsewhere, the romantic comedies that are about the only cinema my wife and I agree on; in December 2009 my first (and so far only) three-day marathon of the Lord of the Rings extended editions, along with near back-to-back viewings of Avatar; a raft of movies from 2003 I worked through in order to write my chapter on that year for the Screen Decades series; a series of titles from spring 2011 I barely remember staring at as I gradually emerged from the numbness of losing our first child.
Perhaps the most significant movies on the list are the final two, from July 2011. Transformers: Dark of the Moon, an otherwise indefensible turd but the last thing I saw in a theater before we got the call from our adoption agency; and, a few days later, The Dark Crystal, which I watched on my iPad as I cradled a sleeping Zachary in my arms — making that strange and beautiful experiment in puppets and fantasy his first movie.
April 2009
Rachel Getting Married (Jonathan Demme, 2008)
Quarantine (John Erick Dowdle, 2008)
The Poughkeepsie Tapes (John Erick Dowdle, 2007) *
Let the Right One In (Tomas Alfredson, 2008) *
Anatomy of A Murder (Otto Preminger, 1959)
May 2009
Four Months, Three Weeks and Two Days (Cristian Mungiu, 2007)
The Reader (Stephen Daldry, 2008)
Lost Highway (David Lynch, 1997)
Subway (Luc Besson, 1985) *
I Spit On Your Grave (Meir Zarchi, 1978)
Planet of the Vampires (Mario Bava, 1965)
The Celebration (Thomas Vinterberg, 1998) *
The 5000 Fingers of Dr. T (Roy Rowland, 1953)
Dr. Jekyll and Mr. Hyde (Rouben Mamoulian, 1931)
Irreversible (Gaspar Noe, 2002) *
Head (Bob Rafelson, 1968)
Gertrud (Carl Th. Dreyer, 1964)
The Last Man On Earth (Ubaldo Ragona and Sidney Salkow, 1964)
The Hypothesis of the Stolen Painting (Raoul Ruiz, 1978) *
Waco: The Rules of Engagement (William Gazecki, 1997)
Tell No One (Guillaume Canet, 2006)
Pickpocket (Robert Bresson, 1959) *
Dr. Cyclops (Ernest B. Schoedsack, 1940)
Shadows of Forgotten Ancestors (Sergei Parajanov, 1964)
Star Trek (J. J. Abrams, 2009) *
Memories (Katsuhiro Otomo, 1995)
Harold and Kumar Go to White Castle (Danny Leiner, 2004)
Fire and Ice (Ralph Bakshi, 1983)
The Earrings of Madame de … (Max Ophuls, 1953)
June 2009
Shane (George Stevens, 1953)
Up (Pete Docter, 2009) *
Missing (Costa Gavras, 1982)
July-August 2009
Bolt (Chris Williams and Byron Howard, 2008)
District 9 (Neill Blomkamp, 2009) *
Inglourious Basterds (Quentin Tarantino, 2009) *
Monsters Vs. Aliens (Conrad Vernon and Rob Letterman, 2009)
Elephant (Gus Van Sant, 2003) *
Paranoid Park (Gus Van Sant, 2007)
The Hangover (Todd Phillips, 2009)
Superman: Doomsday (Bruce Timm, Lauren Montgomery, and Brandon Vietti, 2007)
Wanted (Timur Bekmambetov, 2008)
My Neighbor Totoro (Hayao Miyazaki, 1988)
Noroi (Koji Shiraishi, 2005) *
Bruce Almighty (Tom Shadyac, 2003)
Taken (Pierre Morel, 2008) *
The Proposal (Anne Fletcher, 2009)
New in Town (Jonas Elmer, 2009)
Burn After Reading (Joel and Ethan Coen, 2008)
Drag Me to Hell (Sam Raimi, 2009)
Knowing (Alex Proyas, 2009)
October 2009
Cloudy with a Chance of Meatballs (Phil Lord and Christopher Miller, 2009)
The Fog of War (Errol Morris, 2003)
Paranormal Activity (Oren Peli, 2009) *
Helvetica (Gary Hustwit, 2007) *
Harry Potter and the Half-Blood Prince (David Yates, 2009)
Moon (Duncan Jones, 2009) *
The Secret Lives of Dentists (Alan Rudolph, 2003)
G.I. Joe – The Rise of Cobra (Stephen Sommers, 2009)
The Wrestler (Darren Aronofsky, 2008)
The Clinton Chronicles (Patrick Matrisciana, 1994)
Angels and Demons (Ron Howard, 2009)
November 2009
The Obama Deception (Alex Jones, 2009)
Terminator Salvation (McG, 2009)
Day for Night (Francois Truffaut, 1973)
And God Created Woman (Roger Vadim, 1956)
The Bigamist (Ida Lupino, 1953)
The Body Snatcher (Robert Wise, 1945)
The Taking of Pelham 123 (Tony Scott, 2009)
La Notte (Michelangelo Antonioni, 1961)
Sinbad: Legend of the Seven Seas (Tim Johnson and Patrick Gilmore, 2003)
Orphan (Jaume Collet-Serra, 2009)
The Ugly Truth (Robert Luketic, 2009)
Jennifer's Body (Karyn Kusama, 2009)
December 2009
The Fellowship of the Ring (Peter Jackson, 2001)
The Two Towers (Peter Jackson, 2002)
The Return of the King (Peter Jackson, 2003)
Barry Lyndon (Stanley Kubrick, 1975) *
Four Christmases (Seth Gordon, 2008)
Star Trek (J. J. Abrams, 2009)
Julie and Julia (Nora Ephron, 2009)
Avatar (James Cameron, 2009) *
Love Actually (Roger Curtis, 2003)
Elf (Jon Favreau, 2003)
Avatar (James Cameron, 2009)
January 2010
Bruno (Larry Charles, 2009)
May 2010
Funny Games (Michael Haneke, 2008)
Iron Man (Jon Favreau, 2008)
Kick-Ass (Matthew Vaughn, 2010)
Magnum Force (Ted Post, 1973)
The Crazies (Breck Eisner, 2010)
Tokyo Gore Police (Yoshihiro Nishimura, 2008) *
Two-Lane Blacktop (Monte Hellman, 1971) *
The Road (John Hillcoat, 2009)
Shutter Island (Martin Scorsese, 2010)
Dirty Harry (Don Siegel, 1971)
Valentine's Day (Garry Marshall, 2010)
AM 1200 (David Prior, 2008) *
June 2010
Hulk (Ang Lee, 2003)
X2: X-Men United (Bryan Singer, 2003)
Iron Man 2 (Jon Favreau, 2010)
The Hills Have Eyes 2 (Martin Weisz, 2007)
In the Loop (Armando Iannucci, 2009)
Toy Story 3 (Lee Unkrich, 2010)
28 Days Later (Danny Boyle, 2002)
Martyrs (Pascal Laugier, 2008) *
July 2010
Greenberg (Noah Baumbach, 2010)
Sex and the City 2 (Michael Patrick King, 2010)
The Book of Eli (The Hughes Brothers, 2010)
Harry Brown (Daniel Barber, 2009)
Date Night (Shawn Levy, 2010)
Youth in Revolt (Miguel Arteta, 2009)
Inception (Christopher Nolan, 2010)
Salt (Phillip Noyce, 2010)
The Usual Suspects (Bryan Singer, 1995)
The Ghost Writer (Roman Polanski, 2010) *
Master and Commander: The Far Side of the World (Peter Weir, 2003)
August 2010
Dinner for Schmucks (Jay Roach, 2010)
The Other Guys (Adam McKay, 2010)
The Last House on the Left (Dennis Illiadis, 2009)
Kiss Kiss Bang Bang (Shane Black, 2005)
Pontypool (Bruce McDonald, 2009)
An Education (Lone Scherfig, 2009) *
10,000 BC (Roland Emmerich, 2008)
Star Trek VI: The Undiscovered Country (Nicholas Meyer, 1991)
September 2010
Scott Pilgrim Vs. the World (Edgar Wright, 2010)
The House of the Devil (Ti West, 2009)
Frontier(s) (Xavier Gens, 2007)
Dead Snow (Tommy Wirkola, 2009)
Batman: Under the Red Hood (Brandon Vietti, 2010)
Splice (Vincenzo Natali, 2009)
October 2010
The Godfather (Francis Ford Coppola, 1972) *
The Godfather Part II (Francis Ford Coppola, 1974) *
How to Train Your Dragon (Chris Sanders and Dean DeBlois, 2010)
The Social Network (David Fincher, 2010)
Zodiac (David Fincher, 2007)
The Fall (Tarsem Singh, 2006)
Winter's Bone (Debra Granik, 2010) *
It's Kind of a Funny Story (Anna Boden and Ryan Fleck, 2010)
The Shining (Stanley Kubrick, 1980) *
November 2010
Twilight (Catherine Hardwicke, 2008)
Megamind (Tom McGrath, 2010)
House (Nobuhiko Obayashi, 1977) *
Don't Be Afraid of the Dark (John Newland, 1973) *
December 2010
Tron: Legacy (Joseph Kosinski, 2010) *
The Queen (Stephen Frears, 2006)
The Family Stone (Thomas Bezucha, 2005)
Gone Baby Gone (Ben Affleck, 2007)
Back to the Future (Robert Zemeckis, 1985)
Back to the Future 2 (Robert Zemeckis, 1989)
January 2011
Matango (Ishiro Honda, 1963)
Paranormal Activity 2 (Tod Williams, 2010)
The Kids Are All Right (Lisa Cholodenko, 2010)
The King's Speech (Tom Hooper, 2010) *
127 Hours (Danny Boyle, 2010)
February 2011
Frankenstein (James Whale, 1931)
Black Swan (Darren Aronofsky, 2010)
Predators (Nimrod Antal, 2010)
Away We Go (Sam Mendes, 2009)
Equinox (Dennis Muren, 1970)
Kings Row (Sam Wood, 1942)
March 2011
Tangled (Nathan Greno and Byron Howard, 2010)
The Next Three Days (Paul Haggis, 2010) *
Love and Other Drugs (Edward Zwick, 2010)
The Fighter (David O. Russell, 2010)
April 2011
Source Code (Duncan Jones, 2011) *
Unstoppable (Tony Scott, 2010)
Get Low (Aaron Schneider, 2009)
The Number 23 (Joel Schumacher, 2007)
May 2011
Blue Valentine (Derek Cianfrance, 2010) *
Thor (Kenneth Branagh, 2011)
Battle: Los Angeles (Jonathan Liebesman, 2011)
Ju-on (Takashi Shimizu, 2000)
I Saw the Devil (Kim Ji-woon, 2010) *
Bridesmaids (Paul Feig, 2011)
June 2011
Unknown (Jaume Collet-Serra, 2011)
Kung Fu Panda 2 (Jennifer Yuh Nelson, 2011)
Cedar Rapids (Miguel Arteta, 2011)
Limitless (Neil Burger, 2011) *
Frozen (Adam Green, 2010)
The Tunnel (Carlo Ledesma, 2011)
Super 8 (J. J. Abrams, 2011) *
Insidious (James Wan, 2011)
Cedar Rapids (Miguel Arteta, 2011)
July 2011
Transformers: Dark of the Moon (Michael Bay, 2011)
The Dark Crystal (Jim Henson and Frank Oz, 1982) *