It might seem odd to kick off the new year by looking back at last fall, but that's the kind of guy I am: whether engaging in moody retrospection and fatuous nostalgia, I prefer to live in the past. Plus we're talking about movies, which remain — at least until Sony releases its Tachyon-CCD FutureLook Imaging System — recordings of history, offering us hitchhikers a ride along a one-lane highway marked with a backwards-pointing time's arrow.
In any case, my mission to watch a movie per day, which began midway through 2007 (prior lists here, here, and here), continued to unravel throughout a busy autumn. Teaching, writing, and moving into a new house took their predictable toll. Hence the 27 titles listed below, reflecting an increasingly desultory viewing practice, extend over two months, September and October. I cheated a bit by including movies I screened for my Intro to Film class — touchstones like Singin' in the Rain and Psycho — as well as a number of films for my Animation and Cinema course, including Wizards, Perfect Blue, and Happy Feet. Anything I happened to grab at the video store is on the list, though I tended to watch these items with pen and paper determinedly not in hand; sometimes you just want to look, not think. That said, I was pleasantly surprised by at least one piece of recreational viewing, 28 Weeks Later, which kept me wide-awake and riveted to the screen after the endless bellowing blur of Transformers put me to sleep.
28 Weeks Later is marked with an asterisk, as is any film that made a powerful impression on me. The asterisk for The Blob, you might be interested to know, was almost entirely earned by Aneta Corsault, who occupies the girlfriend-of-hero structural position opposite Steve McQueen. One holdover from my misspent youth (there's that preoccupation with the past again) is a tendency toward crushes on movie actresses; Corsault's eyebrows alone ensnared me as irresistably as the glutinous alien invader of the title.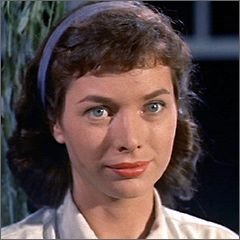 Movie-a-Day: September-October 2007
Assault on Precinct 13 (John Carpenter, 1976)
The Last Detail (Hal Ashby,1973)*
Monsoon Wedding (Mira Nair, 2002)
The Passenger (Michelangelo Antonioni, 1975)*
The Third Man (Carol Reed, 1949)
Singin' in the Rain (Stanley Donen & Gene Kelley, 1952)
Perfect Blue (Satoshi Kon, 1998)
Wizards (Ralph Bakshi, 1977)
Happy Feet (George Miller & Warren Coleman, 2006)
Death Race 2000 (Paul Bartel, 1975)
Mrs. Miniver (William Wyler, 1942)
New York, New York (Martin Scorsese, 1977)
Blackboard Jungle (Richard Brooks, 1955)*
Metropolis (Rintaro, 2002)
Hot Fuzz (Edgar Wright, 2007)
My Darling Clementine (John Ford, 1946)
Transformers (Michael Bay, 2007)
28 Weeks Later (Juan Carlos Fresnadillo, 2007)*
L'Avventura (Michelangelo Antonioni, 1960)
The Kid Stays in the Picture (Nanette Burstein & Brett Morgen, 2002)
Enron: The Smartest Guys in the Room (Alex Gibney, 2006)
Near Dark (Kathryn Bigelow, 1987)
A Letter to Three Wives (Joseph L. Mankiewicz, 1949)
The Blob (Irvin S. Yeaworth Jr., 1958)*
M*A*S*H (Robert Altman, 1970)*
The Darjeeling Limited (Wes Anderson, 2007)
Psycho (Alfred Hitchcock, 1960)
Happy new year, everyone, and here's to good watching in 2008!