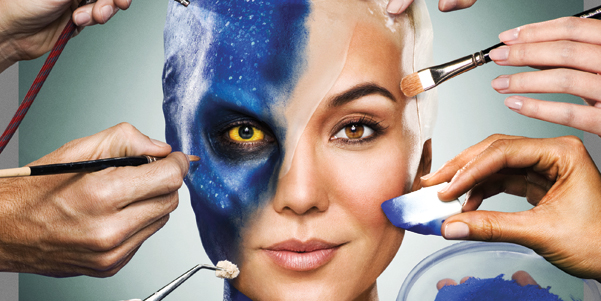 With the finale of Face Off airing tonight, I wanted to quickly share my fondness for the Syfy series, which pits fledgling special-effects artists against each other in timed challenges to create fantastical make-ups. Now in its second season, the show is notable for the way it eschews (to the point of rarely acknowledging the existence of) digital effects, which within the industry increasingly augment and substitute for old-school prosthetics, blood and wound creation, and creature design. For many who grew up watching SF and fantasy film and television in what we now recognize as the analog era of special effects, there is an irreducible beauty to such practical magic, no matter how realistic or unrealistic such effects might currently appear; indeed, our celebration of the artistry involved arguably cannot flower outside the passage of time — and advances in technology — that render older special effects visible precisely as tricks, in turn demonstrating the bankruptcy and uselessness of standards for screen illusion that hinge solely on those illusions' undetectability.
The deeper import of Face Off, running beneath its highly entertaining races to design, fabricate, apply, and paint prosthetic appliances, is that such processes preserve an individual, artisanal ethos that is vanishing from the contemporary effects industry; CGI takes more people, and more time, than the rigors of reality-show competitions allow, which is one reason why the digital era of visual effects has yet to produce an auteur on the level of Stan Winston, Dick Smith, or Ray Harryhausen. (Instead, that auteur function has reverted to the director, himself [so far always a "him"] a crossover between artist and technician a la James Cameron.)
The other thing I dig about Face Off is that it is one of the few reality competitions that don't focus on beautiful people — what Brenda Weber calls the "afterbodies" of makeover TV — or on unbeautiful people as a problem in need of solving, as in The Biggest Loser. Instead, the contestants of Face Off, like the judges, are a wonderful miscellany of folks bearing the styles and decorations of subcultures who rarely receive air time except as oddities. The gender (and, between the lines, queer and transgender) identities are welcomely mixed, though so far pretty uniformly white. It's an almost accidental showcase of diversity that makes perfect sense given the communities of fandom that populate Face Off: a group whose self-conscious display of difference is, itself, a celebration of the modified and colorful body, encased in its cleverly bizarre social prosthetics.