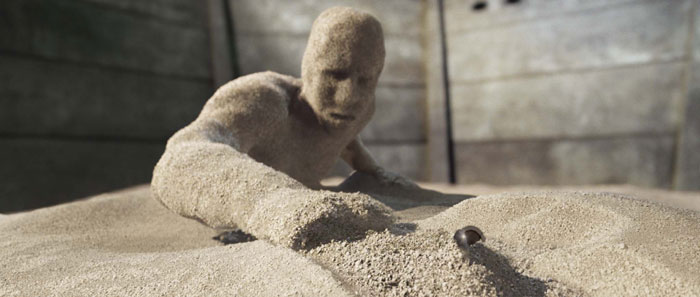 Dan North has published an excellent analysis of the Sandman birth sequence in Spider-Man 3, using this three-minute shot as springboard for a characteristically deft dissection of visual-effects aesthetics and the relationship between CG and live-action filmmaking. His concluding point, that CGI builds on rather than supplants indexical sensibilities — logically extending the cinematographic vocabulary rather than coining utterly alien neologisms — is one that is too often lost in discussions that stress digital technology's alleged alterity to traditional filmic practices. I'd noticed the Sandman sequence too; in fact, it was paratextually telegraphed to me long before I saw the movie itself, in reviews like this from the New York Times:
… And when [The Sandman] rises from a bed of sand after a "particle atomizer" scrambles his molecules, his newly granulated form shifts and spills apart, then lurches into human form with a heaviness that recalls Boris Karloff staggering into the world as Frankenstein's monster. There's poetry in this metamorphosis, not just technological bravura, a glimpse into the glory and agony of transformation.
I don't have anything to add to Dan's exegesis (though if I were being picky, I might take issue with his suggestion that the Sandman sequence simply could not have been realized without computer-generated effects; while it's true that this particular rendering, with its chaotic yet structured swarms of sand-grains, would have taxed the abilities of "stop-motion or another kind of pro-filmic object animation," the fact is that there are infinitely many ways of designing and staging dramatic events onscreen, and in the hands of a different creative imagination than Sam Raimi and his previz team, the Sandman's birth might have been realized in much more allusive, poetic, and suggestive ways, substituting panache for pixels; indeed, for all the sequence's correctly lauded technical artistry and narrative concision, there is something ploddingly literal at its heart, a blunt sense of investigation that smacks of pornography, surveillance-camera footage, and NASA animations — all forms, incidentally, that share the Spider-Man scene's unflinching long take).
But my attention was caught by this line of Dan's:
This demarcation of the set-piece is a common trope in this kind of foregrounded spectacle — it has clear entry and exit points and stands alone as an autonomous performance, even as it offers some narrative information; It possesses a limited colour scheme of browns and greys (er … it's sand-coloured), and the lack of dialogue or peripheral characters further enforces the self-containment.
I've long been interested in the concept of the setpiece, that strange cinematic subunit that hovers somewhere between shot, scene, and sequence, hesitating among the registers of cinematography, editing, and narrative, partaking of all while being confinable to none. Setpieces can be an unbroken single shot from the relatively brief (the Sandman's birth or the opening to Welles's Touch of Evil) to the extravagantly extended (the thirteen-minute tracking shot with which Steadicam fetishist Brian DePalma kicks off Snake Eyes). But we're perhaps most familiar with the setpiece as constituted through the beats of action movies: hailstorms of tightly edited velocity and collision like the car chases in Bullitt or, more humorously, Foul Play; the fight scenes and song-and-dance numbers that act as structuring agents and generic determinants of martial-arts movies and musicals respectively; certain "procedural" stretches of heist, caper, and espionage films, like the silent CIA break-in of Mission Impossible (smartly profiled in a recent Aspect Ratio post). Setpieces often occur at the start of movies or near the end as a climactic sequence, but just as frequently erupt throughout the film's running time like beads on a string; Raiders of the Lost Ark is a gaudy yet elegant necklace of such baubles, including one of my favorites, the "basket chase" set in Cairo. Usually wordless, setpieces tend to feature their own distinctive editing rhythms, musical tracks, and can-you-top-this series of gags and physical (now digital) stunts.
Setpieces are, in this sense, like mini-movies embedded within bigger movies, and biological metaphor might be the best way to describe their temporal and reproductive scalability. Like atavistic structures within the human body, setpieces seem to preserve long-ago aesthetics of early cinema: their logic of action and escalation recalls Edison kinetoscopes and Keystone Cops chases, while more hushed and contemplative setpieces (like the Sandman birth) have about them something of the arresting stillness and visual splendor of the actualite. Or to get all DNAish on you, setpieces are not unlike the selfish genes of which Richard Dawkins writes: traveling within the hosts of larger filmic bodies, vying for advantage in the cultural marketplace, it is actually the self-interested proliferation of setpieces that drives the replication — and evolution — of certain genres. The aforementioned martial-arts movies and musicals, certainly; but also the spy movie, the war and horror film, racing movies, and the many vivid flavors of gross-out comedy. The latest innovation in setpiece genetics may be the blockbuster transmedia franchise, which effectively "brands" certain sequences and delivers them in reliable (and proprietary) form to audiences: think of the lightsaber duels in any given phenotypic expression of Star Wars, from film to comic to videogame.
On an industrial level, of course, setpieces also signal constellations of labor that we can recognize as distinct from (while inescapably articulated to) the films' ostensible authors. One historical instance of this is the work of Slavko Vorkapich, renowned for the montages he contributed to other peoples' movies — so distinctive in his talents that to "Vorkapich" something became a term of art in Hollywood. Walt Disney was a master when it came to channeling and rebranding the work of individual artists under his own overweening "vision"; more recently we have the magpie-like appropriations of George Lucas, who was only in a managerial sense the creator of the Death Star battle that ends the 1977 Star Wars: A New Hope. This complexly composited and edited sequence (itself largely responsible for bringing setpieces into being as an element of fannish discourse) was far more genuinely the accomplishment of John Dykstra and his crew at Industrial Light and Magic, not to mention editors Richard Chew and Marcia Lucas. Further down the line — to really ramify the author function out of existence — the battle's parentage can be traced to the cinematographers and editors who assembled the World War II movies — Tora! Tora! Tora!, The Bridges at Toko-Ri, The Dam Busters, etc. — from which Lucas culled his reference footage, a 16mm reel that Dykstra and ILM used as a template for the transcription of Mustangs and Messerschmitts into X-Wings and TIE Fighters.
Thirty years after the first Star Wars, sequences in blockbuster films are routinely farmed out to visual effects houses, increasing the likelihood that subunits of the movie will manifest their own individuating marks of style, dependent on the particular aesthetic tendencies and technological proficiencies of the company in question. (Storyboards and animatics, as well as on-the-fly oversight of FX shots in pipeline, help to minimize the levels of difference here, smoothing over mismatches in order to fit the outsourced chunks of content together into a singularly authored text — hinting at new ways in which the hoary concepts of "compositing" and "continuity" might be redeployed as a form of meta-industrial critique.) In the case of Spider-Man 3, no fewer than eight FX houses were involved (BUF, Evil Eye Pictures, Furious FX, Gentle Giant Studios, Giant Killer Robots, Halon Entertainment, Tweak Films, and X1fx) in addition to Sony Pictures Imageworks, which produced the Sandman shot.
When we look at a particular setpiece, then, we also pinpoint a curious node in the network of production: a juncture at which the multiplicity of labor required to generate blockbuster-scale entertainment must negotiate with our sense of a unified, unique product / author / vision. Perhaps this is simply an accidental echo of the collective-yet-singular aura that has always attended the serial existence of superheroes; what is Spider-Man but a single artwork scripted, drawn, acted, and realized onscreen by decades of named and nameless creators? But before all of this, we confront a basic heterogeneity that textures film experience: our understanding, at once obvious and profound, that some parts of movies stand out as better or worse or more in need of exploration than others. Spider-Man 3, as Dan acknowledges, is not a great film; but that does not mean it cannot contain great moments. In sifting for and scrutinizing such gems, I wonder if academics like us aren't performing a strategic if unconscious role — one shared by the increasingly contiguous subcultures of journalists, critics, and fans — our dissective blogging facilitating a trees-over-forest approach to film analysis, a "setpiece-ification" that reflects the odd granularity of contemporary blockbuster media.