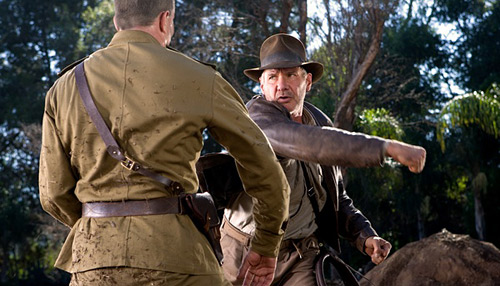 A quick followup to my recent post on the new Indiana Jones movie: I've seen it, and find myself agreeing with those who call it an enjoyable if silly film. Actually, it was the best couple of hours I've spent in a movie theater on a Saturday afternoon in quite a while, and seemed especially well suited to that particular timeframe: an old-fashioned matinee experience, a slightly cheaper ticket to enjoy something less than classic Hollywood art. Pulp at a bargain price.
But my interest in the disproportionately angry fan response to the movie continues. And to judge by articles popping up online, Indiana Jones and the Kingdom of the Crystal Skull is providing us, alongside its various pleasures (or lack thereof), a platform for thinking about that (ironically) age-old question, "How are movies changing?" — also known as "Where has the magic gone?" Here, for example, are three articles, one from Reuters, one from The Atlantic.com, and one from an MTV blog, each addressing the film's heavy use of CGI.
I can see what they're talking about, and I suppose if I were less casual in my fandom of the first three Indy movies, I'd be similarly livid. (I still can't abide what's been done to Star Wars.) At the same time, I suspect our cultural allergy to digital visual effects is a fleeting phenomenon — our collective eyes adjusting themselves to a new form of light. Some of the sequences in Crystal Skull, particularly those in the last half of the film, simply wouldn't be possible without digital visual FX. CG's ability to create large populations of swarming entities onscreen (as in the ant attack) or to stitch together complex virtual environments with real performers (as in the Peru jungle chase) were clearly factors in the very conception of the movie, with the many iterations of the troubled screenplay passing spectacular "beats" back and forth like hot potatoes on the assumption that, should all else fail, at least the movie would feature some killer action.
Call it digital day for night, the latest version of the practice by which scenes shot in daylight "pass" for nighttime cinematography. It's a workaround, a cheat, like all visual effects, in some sense nothing more than an upgraded cousin of the rear-projected backgrounds showing characters at seaside when they're really sitting on a blanket on a soundstage. It's the hallmark of an emerging mode of production, one that's swiftly becoming the new standard. And our resistance to it is precisely the moment of enshrining a passing mode of production, one that used to seem "natural" (for all its own undeniable artificiality). By such means are movies made, but it's also the way that the past itself is manufactured, memory and nostagia forged through an ongoing dialectic of transparency and opacity that haunts our recreational technologies.
We'll get used to the new way of doing things. And someday, movies that really do eschew CG in favor of older FX methodologies, as Spielberg and co. initially promised to do, will seem as odd in their way as performances of classical music that insist on using authentic instruments from the time. For the moment, we're suspended between one mode of production and another, truly at home in neither, able only to look unhappily from one bank to another as the waterfall of progress carries us ever onward.