It's still Jessica Yellin and you look like Jessica Yellin and we know you are Jessica Yellin. I think a lot of people are nervous out there. All right, Jessica. You were a terrific hologram.

— Wolf Blitzer, CNN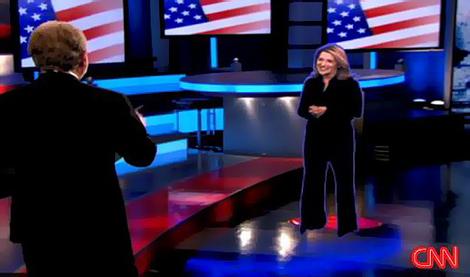 I woke this morning feeling distinctly unreal — a result of staying up late to catch every second of election coverage (though the champagne and cocktails with which I and my wife celebrated Obama's amazing win undoubtedly played a part). But even after I checked the web to assure myself that, indeed, the outcome was not a nighttime dream but a daylight reality, I couldn't shake the odd sense of being a projection of light myself, much like the "holograms" employed by CNN as part of their news coverage (Here's the YouTube video, for as long as it might last):
I've written before on the spectacular plenitude of high-definition TV cross-saturated with intensive political commentary, an almost subjectivity-annihilating information flow on the visual, auditory, and ideological registers. In the case of CNN's new trick in the toolbox, my first reaction was to giggle; the projection of reporter Jessica Yellin into the same conversational space as Wolf Blitzer was like a weird halftime show put on by engineering students as a graduation goof. But the cable news channel seemed to mean it, by God, and I have little doubt that we'll see more such holographic play in coverage to come, as the technology becomes cheaper and its functionality streamlined into a single switch thrown on some hidden mixing board — shades of Walter Benjamin's observation in "The Work of Art in the Age of Mechanical Reproduction" about striking a match.
Leaving aside the joking references to Star Wars (whose luminously be-scanlined projection of Princess Leia served, in 1977, to fold my preadolescent crush on Carrie Fisher into parallel fetishes with science-fiction technology and the visual-effects methods used to create them), last night's "breakthrough" transmission of Yellin from Chicago to New York contains a subtle and disturbing undertone that should not be lost on feminist critics or theorists of simulation. This 2008 version of Alexander Graham Bell's "Mr. Watson — Come here — I want to see you" employed as its audiovisual payload a woman's body. It was, in this sense, just the latest retelling of the sad old story in which the female form is always-already rendered a simulacrum in the visual circuits of male desire. Yellin's hologram, positioned in compliant stasis at the twinned focus of Blitzer's crinkly, interrogative gaze and a floating camera that constantly reframed her phantasmic form, echoed the bodies of many a CG doll before it: those poor gynoids, from SIGGRAPH's early Marilyn Monrobot to Shrek's Princess Fiona and Aki Ross in Final Fantasy: The Spirits Within, whose high-rez objectification marks the triumphal convergence of representational technology and phallic hegemony.
But beyond the obvious (and necessary) Mulveyan critique exists another interesting point. The news hologram, achieved by cybernetically tying together the behavior of two sets of cameras separated by hundreds of miles, is a remarkable example of realtime visual effects: the instantaneous compositing of spaces and bodies that once would have taken weeks or months to percolate through the production pipeline of even the best FX house. That in this case we don't call it a visual effect, but a "news graphic" or the like, speaks more to the discursive baffles that generate such distinctions than to any genuine ontological difference. (A similar principle applies to the term "hologram"; what we're really seeing is a sophisticated variant of chroma key, that venerable greenscreen technology by which TV forecasters are pasted onto weather maps. In this case, it's been augmented by hyperfast, on-the-fly match-moving.) Special and visual effects are only recognized as such in narrative film and television — never in news and commercials, though that is where visual-effects R&D burns most brightly.
As to my own hologrammatic status, I assume it will fade as the magic of this political moment sinks in. An ambiguous tradeoff: one kind of reality becoming wonderfully solid, while another — the continuing complicity between gendered power and communication / imaging technology — recedes from consciousness.