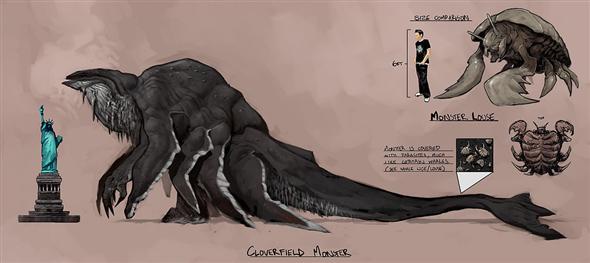 Like the Manhattan-demolishing leviathan at its center — sometimes only a distant, crashing presence, sometimes terrifyingly close and looming — Cloverfield is an enigma built of striking contrasts. At once epic and intimate, the film seems utterly familiar in some ways and breathtakingly new in others. At its best (and there is a lot of "best" in its 84-minute running time), Cloverfield takes an almost unbearably cliched monster-movie premise and reinvents it whole, deftly stripping away the audience's ability to anticipate what will happen next — even if, moments later, we realize that we saw the twists and shocks coming a mile away.
In this sense, the new film from producer and concept author J. J. Abrams, screenwriter Drew Goddard, and director Matt Reeves accomplishes what any good movie must: find a new, temporarily convincing way to obey the established rules of its genre and yet package them in a manner that seems fresh and original. I say "temporarily" because, of course, it's a zero-sum game: assuming Cloverfield is the box-office phenomenon its makers and marketers clearly expect it to be, we're in for any number of B, C, and D-grade knockoffs. We'll quickly tire of the Cloverfield effect, just as we tired of the Matrix's bullet time, CG films featuring wisecracking animals in an urban setting, or — next on the block for burnout — the recent boomlet of pregnancy comedies like Knocked Up and Juno.
For the moment, though, we're in the sweet spot. Cloverfield works beautifully as a lean, scary, and occasionally awe-inspiring fusion of science fiction and horror. Its impact seems inseparable from the promotional campaign leading up to its release, though what strikes me in retrospect (now that the quantum function of collective anticipation has collapsed, the wave of our wanting condensed into a hard particle of finished film) is how trickily non-promotional the publicity turned out to be. From its first teaser onwards, Cloverfield was sold to us more on the basis of what we didn't know than what we did.
By the old logic of movie marketing, the more we were fed about an upcoming film, the better. Even in cases where a structuring piece of narrative information was withheld, as in The Crying Game, the absence itself became a lure, with reviewers falling all over themselves not to give away the Secret So Shocking You Won't Believe Your Eyes! Not so Cloverfield, whose central mystery — the monster's nature and appearance — became an object of extended forensic investigation by fans and, for many, the primary reason to turn up on opening day to see the film. Speculative images like the one at the top of this article (not, let me add, an accurate representation) abounded as fans scoured Quicktime files frame-by-frame and read clues Rorschach-like into promotional artwork. This was accompanied by much skepticism about the prospect of our ever actually seeing the monster; many felt we were in for another bait-and-switch of the Blair Witch variety.
It's probably no spoiler at this point to announce that there is a monster, and a very satisfying one at that. What's great, though, is how our fear and fascination toward the thing is mostly generated through the human activity around it, in particular the reactions of the quartet of young actors whom we follow throughout the movie. None is a well-known performer, for obvious reasons. Encountering a familiar movie face amid the frenzy and pathos of Cloverfield would destroy the film's precarious conceit of being "real" footage captured by "real" people as the attack "really" happens.
The filmic pursuit of realism has a long and storied history — almost as long as the list of ways that Hollywood has put that realism to cynical use to sell its fictions. In staying within the boundaries of its metaphor, Cloverfield is endlessly gimmicky, finding ways to frame traditional dramatic setpieces and character beats while entirely avoiding artful compositions or anything resembling continuity editing. (As a side note, the visual effects are particularly impressive for the way in which digital elements have been added to jouncing camera work; the production's match-movers deserve a special technical Oscar of their own.)
For Cloverfield's interwoven illusions — not just the spectacle of invented monsters, but affective phantasms like suspense and empathy — to work, everything must seem unplanned, contingent, or (my favorite word from graduate school) aleatory. That term means "dependent on chance or luck," and it's entirely appropriate in this context. Abrams and company have stumbled upon a way to put an electrifying new spin on a comfortable old story, and as fans of the genre, we are lucky indeed.