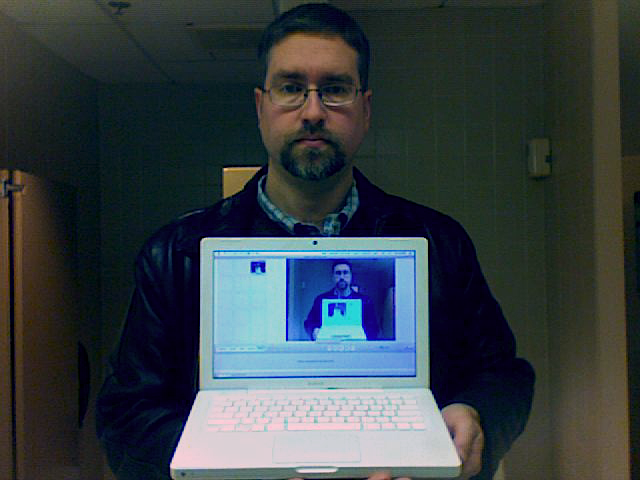 Today I said goodbye to the MacBook that served me and my wife for almost three years — served us tirelessly, loyally, without ever judging the uses to which we put it. It was part of our household and our daily routines, funneling reams of virtual paper past our eyeballs, taking our email dictation, connecting us with friends through Facebook and family through Skype. (Many was the Sunday afternoon I'd walk the MacBook around our house to show my parents the place; I faced into its camera as the bedrooms and staircases and kitchens scrolled behind me like a mutated first-person shooter or a Kubrickian steadicam.) We called it, affectionately, the Craptop; but there was nothing crappy about its animal purity.
It's odd, I know, to speak this way about a machine, but then again it isn't: I'm far too respectful of the lessons of science fiction (not to mention those of Foucault, Latour, and Haraway) to draw confident and watertight distinctions between our technologies and ourselves. My sadness about the Craptop's departure is in part a sadness about my own limitations, including, of course, the ultimate limit: mortality. Even on a more mundane scale, the clock of days, I was unworthy of the Craptop's unquestioning service, as I am unworthy of all the machines that surround and support me, starting up at the press of a button, the turn of a key.
The Craptop was not just a machine for the home, but for work: purchased by Swarthmore to assist me in teaching, it played many a movie clip and Powerpoint presentation to my students, flew many miles by airplane and rode in the back seat of many a car. It passes from my world now because the generous College has bought me a new unit, aluminum-cased and free of the little glitches and slownesses that were starting to make the Craptop unusable. It's a mystery to me why and how machines grow old and unreliable — but no more, I suppose, than the mystery of why we do.
What happens to the Craptop now? Swarthmore's an enlightened place, and so, the brand assures me, is Apple: I assume a recycling program exists to deconstruct the Craptop into ecologically-neutral components or repurpose its parts into new devices. In his article "Out with the Trash: On the Future of New Media" (Residual Media, Ed. Charles R. Acland, University of Minnesota Press, 2007), Jonathan Sterne writes eloquently and sardonically of the phenomenon of obsolete computer junk, and curious readers are well advised to seek out his words. For my part, I'll just note my gratitude to the humble Craptop, and try not to resent the newer model on which, ironically, I write its elegy: soon enough, for it and for all of us, the end will come, so let us celebrate the devices of here and now.