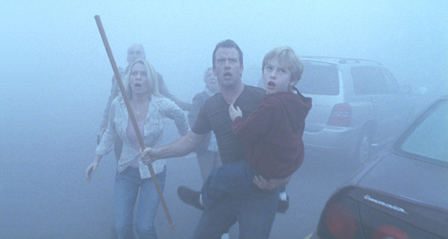 An unexpected benefit of charting my movie-watching habits through this series of posts is the perspective it sheds on my work rhythms — the ebb and flow of teaching, grading, doing research, and attending daily to dozens of other details of the academic profession — and their impact on what I choose to watch. November was crazy-busy — not just with school but a trip back to Indiana for Thanksgiving with my and my wife's families, followed by our first wedding anniversary. Looking back, I'm surprised that I got to see anything at all. But no: somehow I managed to squeeze in nineteen films in thirty days, or roughly (my compulsive calculator checking reveals) .63 movies per day. Reviewing the list, though, what jumps out at me is how many recent and new releases I gravitated toward: eleven of the nineteen or (more calculator-tapping) 58% of the titles are from 2006 and 2007.
So what does this mean? Maybe older films are simply more taxing; good as my favorites were — the 1939 Hunchback of Notre Dame, Powell and Pressburger's I Know Where I'm Going!, Bogdanovich's Paper Moon — they demanded more in the watching than did the blissful, frictionless experience of newer pleasures like The Host, No Country for Old Men, and Meet the Robinsons. When I started this regimen last summer, I was able to sit through very old, very long movies in alert immersion — taking notes, no less. Most of November's selections I watched flat on my back, relaxing into the TV screen or the laptop balanced on my chest, and I'm embarrassed to admit that I fell asleep once or twice during movies that really demand more respectful attention: I Walked With A Zombie, The Italian Job.
Ah well. I've learned to stop apologizing for watching what I watch, the way I watch it. (It's pretty much a requirement if you commit to doing media studies.) If it surprises me now to learn that I saw The Ex — recorded in brainspace only by a fugue-patch of static — I'll just remind myself that wasted time is usually good for the soul. But I will admit that the coming summer is starting to look very good to me: a long lush season of quiet during which I can finally get back to a real movie-a-day plan, digging into film history and moving outside my comfort zones.
As usual, I've placed stars next to the films that made an unusually strong impact on me. In one case, perhaps, more stars are deserved: Frank Darabont's adaptation of Stephen King's The Mist was the most wrenching horror film I've seen since The Descent, and in its way a thing of remarkable beauty.
Movie-A-Day: November 2007

Notes On A Scandal (Richard Eyre, 2006)
The Hunchback of Notre Dame (William Dieterle, 1939)
Spider-Man 3 (Sam Raimi, 2007)
Allegro Non Troppo (Bruno Bozzetto, 1976)
Harlan County USA (Barbara Kopple, 1976)
The Italian Job (Peter Collinson, 1969)
I Know Where I'm Going! (Michael Powell & Emeric Pressburger, 1945)*
The Host (Joon-ho Bong, 2006)*
No Country for Old Men (Joel & Ethan Coen, 2007)*
Battlestar Galactica: Razor (Félix Enríquez Alcalá & Wayne Rose, 2007)
La noire de … [Black Girl] (Ousmane Sembene, 1965)
I Walked With a Zombie (Jacques Tourneur, 1943)
Sherrybaby (Laurie Collyer, 2006)*
Inland Empire (David Lynch, 2006)
The Ex (Jesse Peretz, 2006)
Meet the Robinsons (Stephen J. Anderson, 2007)
Paper Moon (Peter Bogdanovich, 1973)*
Hairspray (Adam Shankman, 2007)
The Mist (Frank Darabont, 2007)*