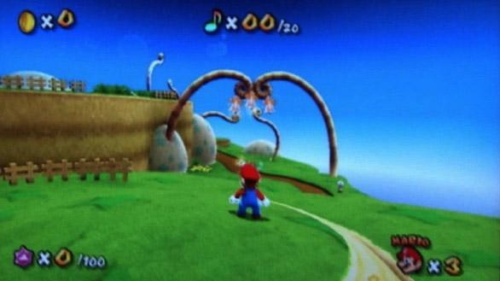 Let me start with a disclosure: although I own both a Nintendo Wii and an XBox 360, I almost exclusively play the latter — and rarely play the former. I've agonized over this. Why does my peak Wii moment remain the mercenary achievement of tracking one down last summer? Why haven't the Wii-mote and its associated embodied play style inspired me to spend a fraction as many hours in front of the television as I've spent working through Katamari Beautiful, Valve's Orange Box, Halo 3, and Need for Speed Carbon on the Xbox? The answer, it seems to me, comes down to graphics: Microsoft's console simply pushes more pixels and throws more colors on my new HD TV, and I vanish into those neon geometries without looking back. I feel guilty about this, vaguely philistine, the same way I felt when I switched from Macintosh to PC. But there it is. Like Roy Neary (Richard Dreyfuss) in Close Encounters of the Third Kind, I go where the pretty lights lead me.
But that doesn't make the phenomenon of the Wii any less fascinating, and the recent New York Times article on the top-selling console games of 2007 is compelling in its assertion that gamers are turning away from the kind of high-end techno-sublime represented by the Xbox 360 and the Playstation 3 and toward the simpler graphics and more accessible play style of the Wii. It makes sense that a dialectic would emerge in videogames between the superadvanced aesthetic and its primitive-by-comparison cousin; the binary of shiny-new and gnarly-old has structured everything from Quake's blend of futuristic cyborgs and medieval demons to Robert Zemeckis's digital adaptation of the ancient Beowulf.  Anyone who's discovered the joy of bringing old 8-bit games to life with emulators like MAME knows that the pleasure of play involves an oscillation between where we've been and where we're going; between what passes for new now and what used to do so; between the sensory thrill of the state-of-the-art and the nostalgia of our first innocent encounters with the videogame medium in all its subjectivity-transforming power.
A less elaborate way of saying which is: the Wii represents through its pared-down graphics the return of a historical repressed, the enshrining of a certain simplicity that remains active at the medium's heart, but until now has not been packaged and sold back to us with quite such panache.
The other interesting claim in the article is that the top games (World of Warcraft, Guitar Hero) are not solitary, solipsistic shooters like Bioshock and Halo, but rich social experiences — you play them with other people around, whether online or ranged around you in the dorm room. Seth Schiesel writes,
Ever since video games decamped from arcades and set up shop in the nation's living rooms in the 1980s, they have been thought of as a pastime enjoyed mostly alone. The image of the antisocial, sunlight-deprived game geek is enshrined in the popular consciousness as deeply as any stereotype of recent decades.
The thing is, I can't think of a time when the games I played as a child and teenager in the 1970s and 1980s weren't social. I always consumed them with a sense of community, whether because my best friend Dan was with me, watching me play (or I watching him) and offering commentary, or because I talked about games endlessly with kids at school. Call it multiplayer avant la lettre; long before LANs and the internet made it possible to blast each other in mazes or admire each other's avatarial stand-ins, we played our games together, making sense of them as a community — granted, a maligned subculture by the mainstream measure of high school, but a community nonetheless. As graphics get better and technologies more advanced, I hope that gamers don't rewrite their pasts, forgetting the friendships forged in an around algorithmic culture.