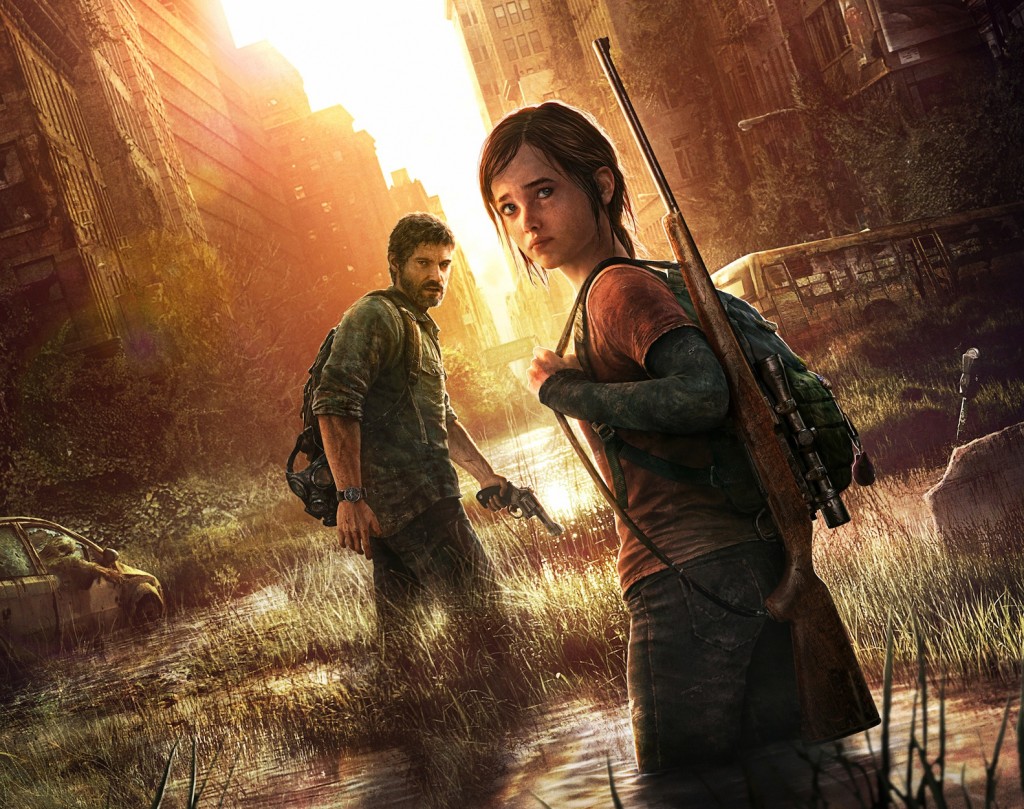 The remarkable opening sequence of The Last of Us was ruined for me — at my request, I hasten to add — and as much as it might be in keeping with the game's ethos of cowing and disempowering its players, I don't want to visit the same epistemological violence upon readers without warning. So proceed no further if you wish to remain unspoiled!
After a long sojourn in retro tidepools of emulation (via MAME and Nestopia) and the immediate, delimited pleasures of casual gaming (where usual suspects like Bejeweled and Temple Run share playtime with private-feeling discoveries like Alien Zone and Nimble Quest) I'm returning to modern videogaming with a PlayStation 3 — itself on the verge of obsolescence, I suppose, thanks to the imminent PS4. My motivations for acquiring both The Last of Us and hardware to run it on can be traced to an hour or so of gaming at a friend's place, where, as my two companions watched and kibbitzed, I walked, crouched, and ran TLOU's protagonist-avatar Joel through a couple of early "encounters" whose purpose seemed to be to teach me the futility of fighting, shooting, or doing anything really besides sneaking around or flat-out running away from danger.
I find TLOU's strategy of undermining any sense of potency or agency to be one of its most intriguing traits, but I will wait to talk more about that in a future post. For now I simply want to note the clever, evil way in which the game gets its hooks in you. You begin the game playing as Sarah, Joel's twelve-year-old daughter, and the initial sequence involves piloting her around a darkened house in search of her father. It's suitably creepy, with Sarah calling out "Dad?" in increasingly panicked tones as, outside the game, you adapt yourself to the basics of movement, camera placement, and manipulating objects in the environment.
The latter is a now-standard method of starting a game in crypto-tutorial mode — apparently sometime within the last ten years instruction manuals ceased to exist. Controllers have become standardized according to their brands, but each videogame deploys its button-and-joystick layout slightly differently, and acclimatizing the player to this scheme in a way that feels natural is every game's first design challenge, a kind of ludic bootstrapping.
When Joel arrives home in the middle of the night and spirits Sarah off in a pickup truck, TLOU enters another mode, the expository tour, in this case a bone-rattling run through a world in the process of collapsing: police cars screeching by with sirens blaring (and lenses flaring), houses burning, townspeople rioting. Rushed from one apocalyptic setpiece to another, it's a bit like Disney's "Small World" ride filtered through Dante's Inferno. By this point, avatarial focus has been handed off to Joel, but you barely notice it; he's carrying Sarah in his arms as he runs, so it feels like he, she, and you have merged into a single unit of desperate, hounded motion.
And when it appears that the three of you have finally reached safety, a soldier appears, opens fire, and kills Sarah. Cut to black and the title card: THE LAST OF US.
It's a great opening, harrowing and emasculating, and by breaking a couple of the basic expectations of storytelling (killing a child) and of gaming (killing an avatar we have grown used to inhabiting), it decenters and disorients the player, readying him or her for what is to come by demonstrating precisely how unready we really are.
It put me in mind of Psycho, which similarly kills off its ostensible protagonist at the end of its first act — though in the 1960 film Marion Crane has had a moral defect established that makes her, in retrospect at least, deserving of punishment in Hitchcock's sadistic scopic regime. Sarah, by contrast, is an innocent, and as much a cipher as emblems of purity always are. Starting the game with her death is a manipulative but effective gut-punch that can be read both positively and negatively. It was enough to make me take the leap and reengage with contemporary gaming — well, it and a few other things. But more on that later.