I thought I'd share with you a fragment of my history — a frozen formative moment in a fanboy's evolution. This summer I've spent a lot of time in Ann Arbor, Michigan, the town where I grew up and where my parents still live. Given that I now have a house of my own, Mom and Dad have been pleading with me to get my stuff out of their basement. This led to some pleasurable archeology, digging through old sketchbooks (from when I wanted to be a comic-book artist), science-fiction screenplays (from when I wanted to become a Super-8 filmmaker), and broken model kits (I must have glued together the U.S.S. Enterprise a dozen times). And some painful triage, as I decided what had to come back with me to Pennsylvania (the long white coffins holding my plastic-bagged collection of Fantastic Four, Love and Rockets, and Cerebus) and what could be disposed of (just about everything else).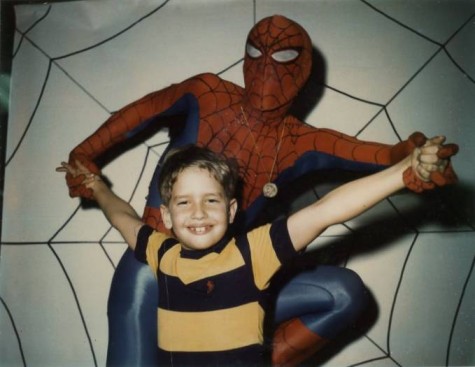 This Polaroid documents a trip my father and I took to a shopping mall called Arborland, where I had the honor of meeting the Spectacular Spider-Man and getting my picture taken with him. I remember little of our encounter, though the webslinger struck me as a nice enough guy, and I certainly appreciated his taking time out of crimefighting (or alternatively his job at the Daily Bugle) to visit his fans. From the visual evidence, I was probably a bit tense — note the contrast between my clenched right fist and the flamboyant fingers of my left hand. It was 1975 or 1976; I would have been nine or ten years old.
What jumps out at me now is the object hanging from a chain around Spider-Man's neck. This, of course, was the economic agenda of the superhero's tour: selling special coins to fans. I don't have my own medallion any more; at least, it hasn't yet turned up in the excavation of my parents' basement. But I do have the photo (I assume this too cost something — Have your picture taken with Spider-Man!) and, thanks to the obsessive-compulsive accumulator of memory that is the internet, I have a scan of the print ad pushing this particular collector's item. I found it on this website but am reproducing the image below (click to enlarge).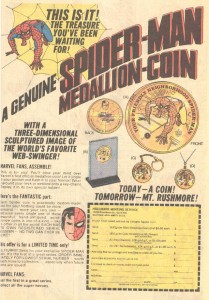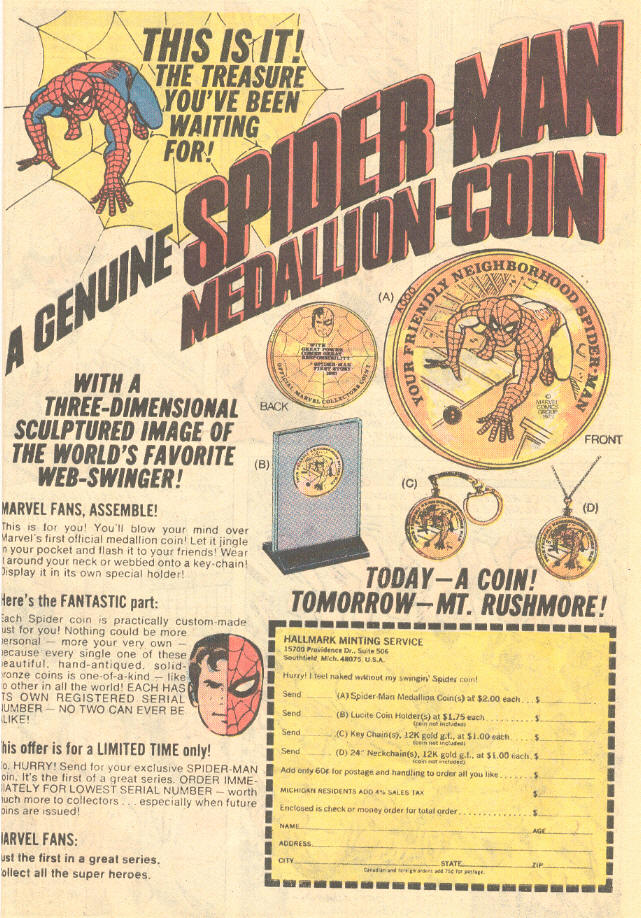 I don't mean, by pointing out this financial base to the superstructure of my preteen jouissance, to be cynical or to undermine the coolness of having met Spidey more than thirty years ago. On the contrary: I love that so many forces came together that day to produce the experience, including not just Marvel's sharklike pursuit of side profits but my sincere love for this particular superhero (so saddled with his own adolescent angst) and my dad's willingness to cart me off for an audience with him. And as I get used — reluctantly — to my own adulthood, which can sometimes seem to be setting up like cold cement around my unchanged 10-year-old heart, images like this offer a brief window of escape: a memory to glimpse, cherish, then put away with a sense of gratitude.