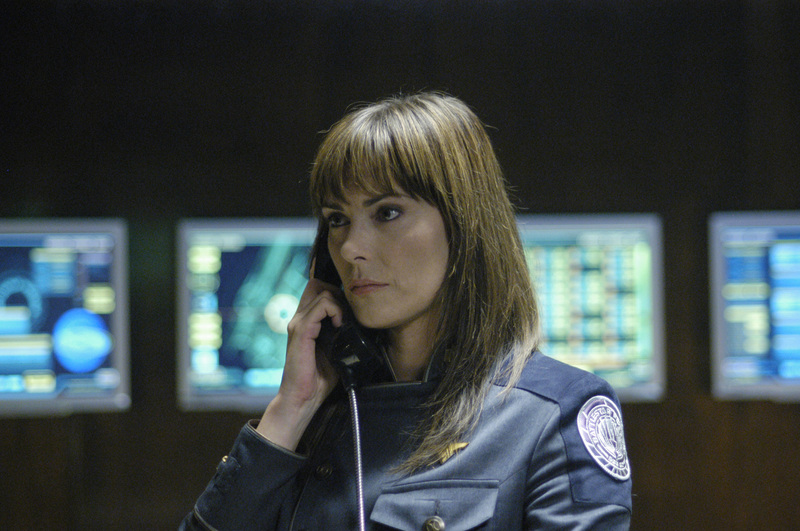 Tonight I had the privilege of attending an advance screening of "Razor," the Battlestar Galactica telefilm that will be broadcast on the SciFi Channel on November 24. Fresh from the experience, I want to tell you a bit about it. I'll keep the spoilers light – that said, however, read on with caution, especially if, like me, you want to remain pure and unsullied prior to first exposure.
Along with several colleagues from Swarthmore College, I drove into Philadelphia a couple of hours before the 7 p.m. showing, fearing that more tickets had been issued than there were seats; this turned out not to be a problem, but it was fun nevertheless – a throwback to my teenage days in Ann Arbor when I stood in line for midnight premieres of Return of the Jedi and Indiana Jones and the Temple of Doom – to kill time with a group of friends, all of us atingle with anticipation, eyeing the strangers around us with a mingled air of social fascination (are we as nerdy as they are?) and prefab amity (hail, fellow travelers, well met!).
The event itself was interesting on several levels, some of them purely visual: We knew we'd be watching a video screener blown up onto a movie-sized screen, and true to expectation, the image had the washed-out, slightly grainy quality that I'm coming to recognize now that I'm getting used to a high-def TV display. (Things overall are starting to look very good in the comfort of my living room.) There was also the odd juxtaposition of completely computer-generated science-fiction imagery in the plentiful ads for Xbox 360 titles such as Mass Effect and the new online Battlestar Galactica game (yes, more tingling at this one) with the actual show content – the space battles especially were in one sense hard to distinguish from their Xbox counterparts.
But at the same time, the entire program served as a reminder of what makes narratively-integrated visual effects sequences more compelling (in a certain sense) than their videogame equivalents. "Razor"'s battle scenes, of which there are – what's the technical term? – puh-lenty, carry the dramatic weight of documentary footage or at least historical reenactments, by comparison to which the explosive combat of Mass Effect and the BSG game were received by audiences with the amused condescension of parents applauding politely an elementary-school play starring somebody else's kids. Disposable entertainment, in a word, paling beside the high-stakes offering of "real" Galactica – and not just any Galactica, but the backstory of one of BSG's most nightmarish and searing storylines, that of the "lost" Battlestar Pegasus and her ruthlessly hardline commander, Admiral Helena Cain (Michelle Forbes).
(I'll get to the meat of the story in a moment, but one last thought on the blatantly branded evening of Microsoft-sponsored fun: does anyone really own, or use, or enjoy their Zune? The ad we watched [twice] went to great lengths to portray the Zune as better than an iPod – without ever mentioning iPods, of course – but the net effect was to remind me that a device intended to put portable personal media on a collective footing is as useless as a prehensile toe if no one around you actually owns the thing. "Welcome to the Social," indeed.)
On to "Razor" itself. Was it any good? In my opinion, it was fantastic; it did everything I wanted it to do, including
Lots of space battles
Hard military SF action, namely a sequence highly reminiscent of the Space Marine combat staged to perfection by James Cameron in Aliens
A few heart-tugging moments, including several exchanges between Bill Adama (Edward James Olmos) and his son Lee (Jamie Bamber) of a type that never fail to bring tears to my eyes
Scary, Gigerish biomedical horror
Aaaaand the requisite Halloween-candy sampler of "revelations" regarding BSG's series arc, which I won't go into here except to note that they do advance the story, and suitably whet my appetite for season four (assuming the writer's strike doesn't postpone it until 2019).
A better title, then, might be "Razor: Fanservice," for this long-awaited installment returns to the foreground many of the elements that made BSG such a potent reinvigoration of televised SF when it premiered in the U.S. at the end of 2004. Since then, Galactica has flagged in ways that I detail in an essay for an upcoming issue of Flow devoted to the series; but judging from "Razor," showrunner Ronald D. Moore, like Heroes's Tim Kring, has heard the fans and decided to give them what they want.
For me, the season-two Pegasus arc marked a kind of horizon of possibility for Galactica's bold and risky game of mapping the least rendering of real-world political realities – namely government-sponsored torture questionably and conveniently justified by the "war on terror" – in SF metaphor. With the exception of the New Caprica arc that ended season two and began season three, the show has never since quite lived up to the queasy promise of the Pegasus storyline, in which a darkly militarized mirror-version of the valiant Galactica crew plunged itself with unapologetic resolve into Abu Ghraib-like sexual abuse and humiliation of prisoners.
What "Razor" does so engrossingly is revisit this primal scene of Galactica's complex political remapping to both rationalize it – by giving us a few more glimpses of Admiral Cain's pre- and post-apocalypse behavior and inner turmoil – and deepen its essential and inescapable repugnance. We're given a framework, in other words, for the unforgivable misdeeds of Pegasus's command structure and its obedient functionaries; the additional material both explains and underscores what went wrong and why it should never happen again.
Perhaps most strikingly, "Razor" provides a fantasy substitute for George W. Bush — a substitute who, despite her profoundly evil actions, is reassuring precisely because she seems aware of what she has wrought. In the film's crucial scene, Cain instructs her chief torturer, Lieutenant Thorne (Fulvio Cecere), to make Six (Tricia Helfer)'s interrogation a humiliating, shameful experience. "Be creative," Cain commands, and the fadeout that follows is more chilling than any clinically pornographic rendering of the subsequent violence could ever be. Precisely because I cannot imagine the cowardly powers-that-be, from Bush, Dick Cheney, and Alberto Gonzales on down to Lynndie England and Charles Graner, to ever take responsibility in the straightforward way that Cain does, this scene strikes me as one of the most powerful and eloquent portrayals of the contemporary U.S./Iraqi tragedy that TV has generated.
Admiral Cain is the real frog in SF's imaginary garden. Moreover, her brief return in "Razor" suggests our ongoing need – a psychic wound in need of a good antisepsis and bandage – for a real leader, one with the courage not just to do the unthinkable on our behalf, but to embrace his role in it, and ride that particular horse all the way to his inevitable destruction and damnation.