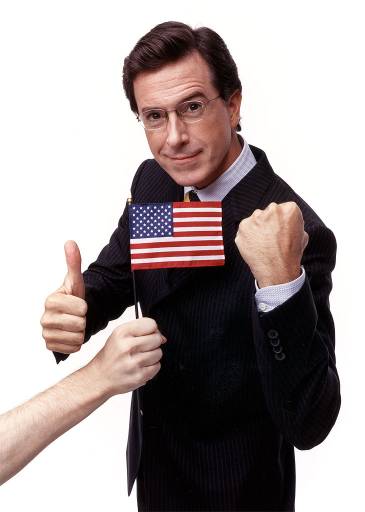 I felt a delicious chill as I read the news that Stephen Colbert is running for President. (He made his announcement on Tuesday's edition of The Colbert Report, the half-hour news and interview program he hosts on Comedy Central.) Why a chill? For all that I enjoy and respect Colbert, he has always prompted in me a faint feeling of vertigo. Watching his comedy is like staring into a deep well or over the side of a tall building: you get the itchy feeling in your legs of wanting to jump, to give yourself up to gravity and the abyss, obliterating yourself and all that you hold dear. Colbert's impersonation of a rabidly right-wing, plummily egotistical media pundit is so polished and impenetrable that it stops being a joke and moves into more uncannily undecidable territory: simulation, automaton, a doll that has come to life. Unlike Jon Stewart on The Daily Show, Colbert's satire doesn't have a target, but becomes the target, triggering a collapse of categories, an implosion, a joke that eats itself and leaves its audience less thrilled than simply unsure (cf. Colbert's performance at the 2006 White House Correspondents Dinner, at which he mapped uneasy smiles and half-frowns across a roomful of Republican faces).
Judging from Colbert's offstage discussion of his work, like his recent interview with Terry Gross of Fresh Air, he's a modest, sensible, reflective guy, able to view his Report persona with wit and detachment even as he delights in using it to generate ever more extreme, Dada-like interventions in popular and political culture — his Wikipedia mischief being only one instance. My half-serious worry is that with his latest move, he's unleashed something far bigger than he knows or can control. The decision to place himself on the 2008 Presidential ballot, even if only in South Carolina, has been received by the mainstream media primarily as another ironic turn of the comedy-imitates-reality-imitates-art cycle, noting the echo of Robin Williams's Man of the Year (2006) and comedian Pat Paulsen's bid for the White House in 1968. But I think the more accurate and alarming comparison might be Larry "Lonesome" Rhodes, the character played by Andy Griffith in Elia Kazan's A Face in the Crowd (1957). In that film, Rhodes goes from being a bumpkinish caricature on a television variety show to a populist demagogue, drunk on his own power and finally revealed as a hollow shell, a moral vacuum. The unsubtle message of Kazan's film is that TV's pervasive influence makes it a tool for our most destructive collective tendencies — a nation of viewers whose appetite for entertainment leads them to eagerly embrace fascism.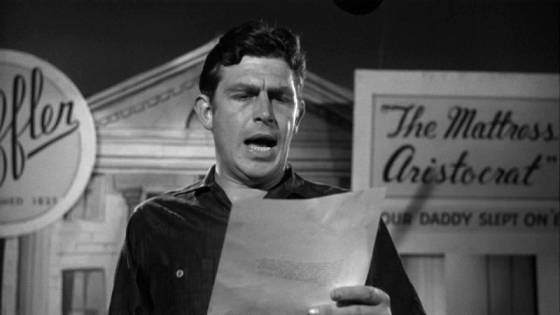 I'd be lying — or at least being flippant — if I claimed to believe that Colbert could be another "Lonesome" Rhodes. I'm neither that cynical about our culture nor that paranoid about the power of media. But given that we live in an era when the opportunities for self-organizing social movements have multiplied profoundly through the agency of the internet, who is to say where Colbert's campaign comedy will mutate smoothly into something more genuine? Maybe he is, at this moment in history, the perfect protest candidate, smoother and more telegenic than Nader and Perot by orders of magnitude. He just might win South Carolina. And if that happens … what next?