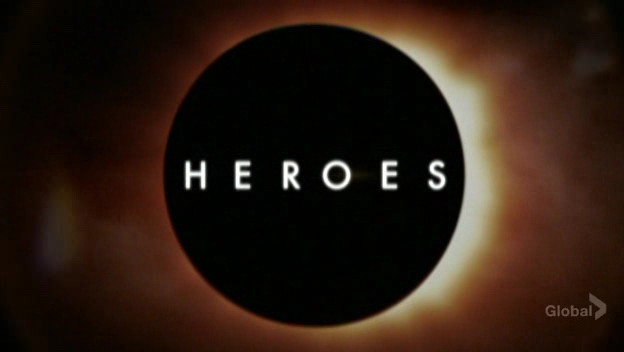 Though I'm sure spoilerrific information is out there — perhaps in the fall previewing going on at The Extratextuals, which I look forward to reading starting tomorrow — I'm as pure as the driven snow when it comes to tonight's season premiere of Heroes. I'm something of a late adopter of this show, having dived into the series a third of a way through its first season. (I still remember the blissful November weekend I spent binging on the first six episodes.) Now, like much of the country, I'm feeling the crazy wound-up energy of settling in for a great roller coaster ride. I love being in the midst of an ongoing, expertly told story which is also a game of expectations: the audience saying Yeah, but can you top yourself? and the show saying (literally) Just watch me.
So I'm glad I know nothing of what's going to happen on a narrative level. On the industrial side, I'm equally unsure. NBC's decision to yank its programming from iTunes struck me as remarkably stupid, especially as I imagine that the Heroes audience trends toward (A) those who will happily pay $1.99 to download episodes and (B) those who will equally happily acquire the content through torrents, peer-to-peer, or other means if the first source dries up. (Acting out the teleplays with hand-puppets, perhaps?) But at the same time, I work on a daily basis with a very devoted sector of the Heroes demographic — college students — who, I learned while teaching a course on television and new media last spring, don't particularly mind watching their TV on network websites like NBC's. They even stick around for the embedded advertising, which is what drives me away from such options. Maybe these young men and women lack the grouchy hacker-derived ethic which still grumbles in my guts that Information should be free … of excessive branding. Whatever the reason for these students' easy acceptance of NBC's proprietary flow, I applaud them for it. Whatever gets you the TV you want to see.
So NBC's gamble of offering episodes as free downloads with a one-week expiration date may work out after all. Me, I'll be watching tonight's Heroes the old-fashioned way: on tape, timeshifted by an hour so my wife can catch the premiere of The Bachelor.