This is the first of a series of posts on a new project of mine exploring movie-monster fandom and "kid culture" in the U.S. from the early 1960s onward. My focus will be less on monster movies themselves than on the objects that circulated around and constituted the films' public — and personal — presence: model kits, toys, games, and other paraphernalia. Approaching media culture through its object practices, I argue, reveals a dynamic space of production in which texts, images, and objects translate and transform one another in flows of commodities, collectibles, and creativity.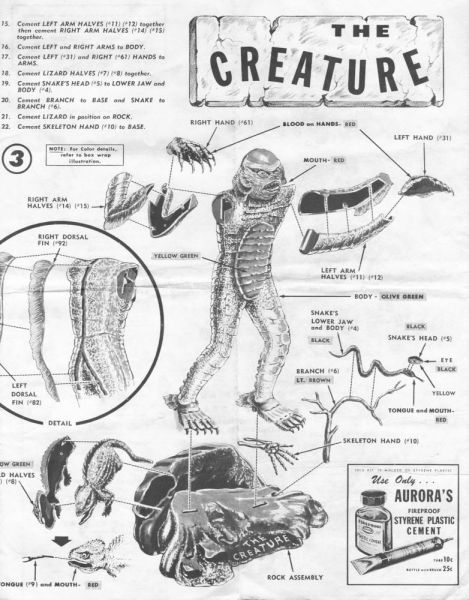 In July 2010, a glossy publication appeared on newsstands, its cover adorned with a colorful Basil Gogos painting of Bela Lugosi in his iconic role of Count Dracula. Under Lugosi's leering portrait run the words The Return of the World's First Monster Fan Magazine! Inside, Publisher Philip Kim and Editor in Chief Michael Heisler's introduction (titled, in punning fashion, "Opening Wounds") frames the new magazine both as tribute to and continuation of Famous Monsters of Filmland, the long-running brainchild of professional horror fan and collector Forrest J. Ackerman. Ackerman, who died in 2008 at the age of 92, published Famous Monsters with James Warren from 1958 to 1983, after which the title passed controversially among several different hands before its official relaunch by Kim and Heisler.
After asserting Famous Monsters' role as "a conduit for undiscovered talent and future giants" that will "again touch fandom through treasures, events, and partnerships," the introduction goes on to promise returning readers a few surprises. "We've got a Captain Company section that's not quite like anything you've seen in FM before," Heisler writes. The nearly audible wink in his words evidently refers to the fact that the closing pages of the magazine are dominated by a photo spread of sexily fanged, Goth-complexioned models, like something out of True Blood, along with a list of their apparel for sale: "Night of the Living Dead Fitted Women's Tee," "Famous Monsters Embroidered Fleece Full Zip Hoodie," "Nosferatu Collage Fitted Tee." The following page adds a few more items to the mix, from reproductions of 60s-era FM issues to commemorative coins, silk prints of Ackerman, and statues of Buffy the Vampire Slayer and Angel.
These are not, of course, the only advertisements appearing in the relaunched FM: other ads sell DVDs of cult films, movie posters, lunch boxes, and license plates, promote tattoo parlors, and announce various upcoming film festivals and conventions, suggesting something of the rich commercial and subcultural networks that have always intersected in FM's pages. But the tensions — as well as the similarities — between the "classical" and "rebooted" Famous Monsters of Filmland are particularly evident in the Captain Company display, for it was this mail-order business that launched with FM and dominated its advertising pages from its earliest days. Indeed, Captain Company's content was so plentiful that it came to seem an equal partner in the magazine's editorial content; articles celebrating the stop-motion artistry of Ray Harryhausen and the torturous makeup feats of Lon Chaney, Sr. blended osmotically with ads for model kits, buttons, posters, books, records, 8mm and 16mm films, and a variety of other commodities, so that the process of learning about and appreciating horror films, directors, actors, and special-effects stars was difficult to distinguish from the acquisition of horror-themed paraphernalia. And while the new Captain Company and its related partners in sales are perhaps "not quite like" their classical predecessors, both are predicated on the idea that, in fact, fandom of horror media has for several decades depended profoundly on the creation and circulation of objects as much as texts.
Film and television studies have tended to overlook or sideline the material life of media fictions, consigning such objects to the blighted category of the commercial tie-in: the cheap plastic toy designed to cash in on the Star Wars craze, the t-shirt emblazoned with Bella and Edward of the Twilight saga. Too often, the implication is that the owners of such objects are cultural dupes. Fan studies have made important interventions in the transformative texts that writers and vidders spark from the raw material of TV shows and movies, but pay less attention to the crafts and collectibles that frequently accompany this culture of creativity. An examination of Famous Monsters in its heyday — the early 1960s through the mid-1970s — offers an expanded picture of how that publication served as a central site for the distribution of material wares, while providing visual templates and discursive forums for the activities of construction, collection, and display that defined horror-film fandom during this period. Viewed longitudinally, the Baby Boom generation that came of age with Famous Monsters and other publications devoted to horror, science fiction, and fantasy helped to feed both the audience pool and the professional base responsible for the boom in blockbuster SF that dominated late-70s and early-80s cinema. Finally, the current market for collectible and constructible items, epitomized by statues of movie, TV, and comic-book characters, springs from generational roots in Famous Monsters' prime decades of operation.
This concludes my opening thoughts on the Modeling Monsters project. In the next installment, I will turn to the grounding figure of my study: the plastic model kit, in particular the Aurora line of classic movie monsters.
Works Cited
Kim, Philip and Michael Heisler. "Opening Wounds." Famous Monsters of Filmland 251 (July 2010). 4.