This is a plug for a new collection on videogame theory, Videogame/Player/Text, that's just about to be published by Manchester University Press (here's the official announcement). The editors, Barry Atkins and Tanya Krzywinska, came up with a great idea: invite game scholars to contribute chapters in which they turn a videogame of their choice inside out, upside down, and shake it wildly to see what insights tumble out.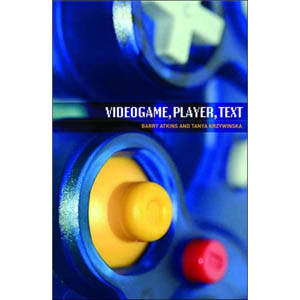 For me, Videogame/Player/Text was an opportunity to return to the subject of first-person shooters, which have interested me both as a player and an academic since my early days in grad school. (My master's thesis, a Lacanian reading of FPS history written at the University of North Carolina at Chapel Hill, later became a chapter called "Playing at Being: Psychoanalysis and the Avatar" in The Video Game Theory Reader [Routledge, 2003], edited by Mark J. P. Wolf and Bernard Perron — Amazon link here.)
For Tanya and Barry's collection, I wanted to get away from the puzzle of retrofitting film theory to videogames (which is still, for many game scholars, anathema) and write in a more medium-specific manner. My focus in "Of Eye Candy and Id: The Terrors and Pleasures of Doom 3" is the evolution of graphic engines, the software component that renders 3D spaces from a subjective viewpoint and is an integral part — the kernel, really — of FPS experience. What I take on in my article for V/P/T is the question of when, exactly, graphic engines came into existence, both as a technical and discursive category; how graphics have generally been talked about in dialectical relation to gameplay; and how the evolution of 3D graphics relates to player embodiment, isolation, and solipsism. As a teaser, the opening paragraphs of my V/P/T essay are quoted here:
Let's start with a claim often heard about Doom 3 (Activision/id Software, 2004): that it is "just" a remake of the 1993 original, the same stuff packaged in prettier graphics. That, although separated by eleven years and profound changes in the cultural, technological, and aesthetic dimensions of videogaming, Doom 3 – like all of Doom's versions – boils down to a single conceit, recycled in the contemporary digital argot:

First, people are taken over, turned into cannibal Things. Then the real horror starts, the deformed monstrosities from Outside. … Soon, brave men drop like flies. You lose track of your friends, though sometimes you can hear them scream when they die, and the sounds of combat echo from deep within the starbase. Something hisses with rage from the steel tunnels ahead. They know you're here. They have no pity, no mercy, take no quarter, and crave none. They're the perfect enemy, in a way. No one's left but you. You … and them.

Here the second-person voice does to readers what Doom so famously did to players, isolating them in a substitute self, an embattled, artificial you. The original Doom had its shareware release on December 10, 1993, marking the popular emergence of the first-person shooter or FPS. Less a game than a programming subgenre all its own, Doom's brand of profane virtual reality was built around a set of graphical hacks – an "engine" of specialized rendering code – that portrayed navigable, volumetric environments from eye-level perspective. Players peered over shotgun barrels at fluidly animated courtyards and corridors, portals and powerups, and "deformed monstrosities" like the fireball-hurling Imp, the elephantine Mancubus, and the Cyberdemon ("a missile-launching skyscraper with goat legs").

Technologically, Doom depended on advances in computer sound and imaging, themselves a result of newly affordable memory and speedy processors. Psychologically, the FPS stitched the human body into its gameworld double with unprecedented intimacy. Gone were the ant-farm displacements of third-person videogames, the god's-eye steering of Pac-Man (Namco, 1980) and the sidescrolling tourism of Super Mario Brothers (Nintendo, 1985). Doom fully subjectivized the avatar – the player-controlled object around which action centers – turning it into a prison of presence whose embodied vulnerability (they're coming for me!) deliciously complemented its violent agency (take that, you bastard!).

Shooters that followed – Unreal (GT Interactive/Epic, 1998), Half-Life (Sierra/Valve, 1998), Deus Ex (Eidos Interactive/Ion Storm, 2000), Halo (MS Game Studios/Bungie, 2001), and countless others – deepened the FPS formula with narrative and strategic refinements, not to mention improvements in multiplayer, artificial intelligence, and level design. But to judge by its latest iteration, the Doom series didn't bother to evolve at all – except in terms of technical execution. …
As for the rest of V/P/T's contents, they look fascinating, and I'm very much looking forward to reading them. A lot of friends among the contributors, and a lot of writers whose work I respect. Here's the chapter lineup:
Introduction: Videogame, player, text – Barry Atkins and Tanya Krzywinska
Beyond Ludus: narrative, videogames and the split condition of digital textuality – Marie-Laure Ryan
All too urban: to live and die in SimCity – Matteo Bittanti
Play, modality and claims of realism in Full Spectrum Warrior – Geoff King
Why am I in Vietnam? – The history of a video game – Jon Dovey
'It's Not Easy Being Green': real-time game performance in Warcraft – Henry Lowood
Being a determined agent in (the) World of Warcraft: text/play/identity – Tanya Krzywinska
Female Quake players and the politics of identity – Helen W. Kennedy
Of eye candy and id: the terrors and pleasures of Doom 3 – Bob Rehak
Second Life: the game of virtual life – Alison McMahan
Playing to solve Savoir-Faire – Nick Montfort
Without a goal – on open and expressive games – Jesper Juul
Pleasure, spectacle and reward in Capcom's Street Fighter series – David Surman
The trouble with Civilization – Diane Carr
Killing time: time past, time present and time future in Prince of Persia: The Sands of Time – Barry Atkins
Videogame/Player/Text should be published by the end of September from Manchester University Press. I invite you to check it out.